Monday, 15 January 2018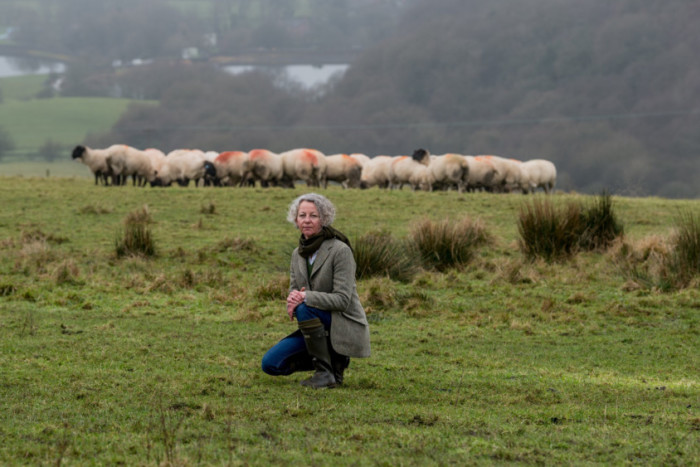 Yorkshire was once the textile capital of the world. Now Mark E Johnson meets one woman determined to revive the art of Great Northern Cloth.
As Yorkshire's sheep huddle against the January cold, commuters passing by could be forgiven for not realising that the link between the animals in the fields and the fine wool clothing they are wearing is broken. Despite West Yorkshire's world-renowned expertise in textiles manufacturing, there's just one fine suit cloth made from British wool. The first samples of it have just found their way to market thanks to German-born tailor Brita Hirsch and her wildly successful Kickstarter project, the Great Northern Cloth. Brita Hirsch, of Hirsch Tailoring, who is hoping to kickstart the British cloth market.
With 30 years of experience in textiles, Brita's done everything from bespoke tailoring for Pavarotti to creating patents in seat-belt manufacture. When she relocated to Macclesfield, the English end of the Silk Road, however, the North's heritage loomed large.
"I couldn't stop thinking about going back to bespoke tailoring," says Brita. "The wool, the cotton, the sheep, the hills… everything is nearby. I knew the names of the mills and the cloth merchants because as an apprentice I started working with those materials."
The seed for the Great Northern Cloth was growing. "I started a project with menswear blogger David Evans. We spoke about the fact that so many people are not aware that these materials are British-made. So we decided to find him a cloth fine enough for a suit made from British wool.
"But it was impossible. Fairly quickly we learned that all the mills were importing their wool from New Zealand and Australia." One of the Bradford wool workers treating the batches of fleece.
In fact, much of the production of supposedly "British" cloth happens elsewhere. Take the suit worn by the 2016 England football team, sold by M&S. The wool came from Australia, and the scouring happened in China. It was dyed in Italy, spun in Romania and only then would the wool make it to Leeds, where it was woven. That was sufficient for M&S to say that the cloth was "100 per cent British".
The wool produced by British sheep is too coarse to be turned into fine fabrics. It has to be sheared to keep the sheep healthy, but the bulk of it goes into carpets and rugs, if it's used at all. A little may be used for hardy Harris Tweed and some of it finds its way into yarn for knitting, but it's not suitable for the fine cloth needed to make a suit. For suiting, you need a fine wool like Merino.
The Merino sheep came out of Spain. Until the 18th century, exporting one from the country was punishable by death. In the 1700s, however, the laws relaxed and the Spanish royal family began sending the sheep to other European nobility. King George III founded the English royal flock at Kew but as the vast, mild pastures in Australia and New Zealand opened up the rugged hill farms of Britain couldn't compete.
"The Merino basically vanished from these shores," says Brita. "Sheep farming, which is so deeply rooted in this country, moved on to breed for meat rather than wool." One result is that British wool is surprisingly unprofitable. This year was one of the worst for the price of fleece. "They go for a pittance, and at best cover the cost of shearing," says Brita.
Then there are the air miles, as seen with the 2016 England suit. Add in the fact that scouring in places like China is often done using chemicals that are banned here because of the environmental damage they cause and wool starts to look less sustainable than it ought.
But during the course of her research Brita learned that the Merino isn't quite gone from Britain. A government research project in the 1990s reintroduced a Merino breed to the border country.
The breed is a cross between the 200-year-old Saxon Merino and the British Shetland. "It was created to make the sheep hardy for the Scottish climate, so it doesn't need any pampering. It lives outside all year round and only comes in for lambing and shearing," says Brita.
The project was ultimately abandoned and the farmers and their flocks were left to fend for themselves, however. For a few years the wool was sold to Japan. "The Japanese are crazy about anything British," says Brita. "They saw the value in this wool way before anybody over here did." When the yield wasn't large enough the wool was sold for carpets or knitting yarn.
Brita had other plans for it, however. After she discovered the Scottish Merino flocks the Great Northern Cloth began to come together. Brita was able to secure the 2016 clip and set up a production chain that includes scouring in Bradford and spinning then weaving in Delph on the Yorkshire-Lancashire border. The final product is a fine herringbone cloth in a range of colours that can truly be called 100 per cent British.
The last step was to launch a crowdfunding campaign, offering rewards ranging from a set of swatches to a bespoke jacket tailored by Brita herself. Brita, in a last minute bout of nerves, nearly didn't launch the Kickstarter. She needn't have worried.
It was fully funded within 12 hours and ultimately made 600 per cent of its target. Now Brita is able to secure the next clip and get to work making sure the Great Northern Cloth isn't a one-time offer. She's proved its value, and that's good news for the farmers.
"The beauty of this really is that there is already interest growing up in the Scottish Borders among young farmers of taking on sheep, maybe building their own flock," says Brita.  "It won't just be the meat that they sell once – you can build your flock and increase the quality of the wool over time. It's a real prospect for people, the income that could be generated from that wool."
It's clear, speaking to Brita, that she's tremendously gratified by the project's success. She believes it speaks to people's desire to consume in a different way. "I call the products 'the real things'. People are coming back to, perhaps, spend more and invest in a product that gives them real value," she says.
"If you ask me to define 'real value' I would say there is some sort of emotional attachment. It doesn't matter whether it's a suit or a loaf baked in a local bakery by someone real who you know, or whether it's a cloth woven from wool from sheep living in this country, I think it makes us feel more grounded. It might have to do with politics, with a general insecurity about the future, about… I almost said it – 'taking back control'." She smiles wryly at this. "But you know, bringing it back to where we can actually make a difference ourselves."
She emphasises how the production chain touches so many people and places that are connected through a common heritage, too.
"It's so tangible. You go to Salts Mill and it had all those looms, and it's in that landscape where you can see the sheep and the hills, you can see the water which used to power these mills coming down. It just belongs there."
Talking to Brita, connection and grounding come up again and again. Reflecting on her German roots, she says: "The one thing not British about this project is me. The project has gained a political component over its course, though I started it a long time before the referendum. But I've only realised with hindsight that it was also a project to make myself feel grounded. I am actually at home here.
"I insist on that, I'm not a guest. But I don't come from here. So my own textiles background and a lifelong occupation with this material means that when I arrived here I could feel at home, because people are doing the same thing that I have done all my life. So it does help me, a lot, to feel at home here.
"Everyone has worked so hard to make this happen, I think out of a desire for a better future."
Brita sounds a little sheepish as she says this, but for the producers, makers and customers who have come into contact with the Great Northern Cloth, it does offer a way to build from our heritage towards the future.
Saturday, 27 June 2015
"Best of Britannia is now in its fourth year and it continues to be an event that attracts established and new businesses making everything from bicycles to basques in the UK. It is open to the public this weekend (27 and 28 June 2015) at 3 -10 Shoreditch High Street, London. 
While I was interested mainly in the menswear and accessories, I was diverted by other well-crafted products, as you'll see below. Regulars will recognise some of the businesses below, several were new to me and I hope to cover many of them in more detail at some point.    
Brita Hirsch showed me her beautiful tailoring. She is based in Cheshire, but makes regular trips to London to see clients. She is a true bespoke tailor and your clothes will be made from a unique pattern that she will cut for you."
Monday, 20 October 2014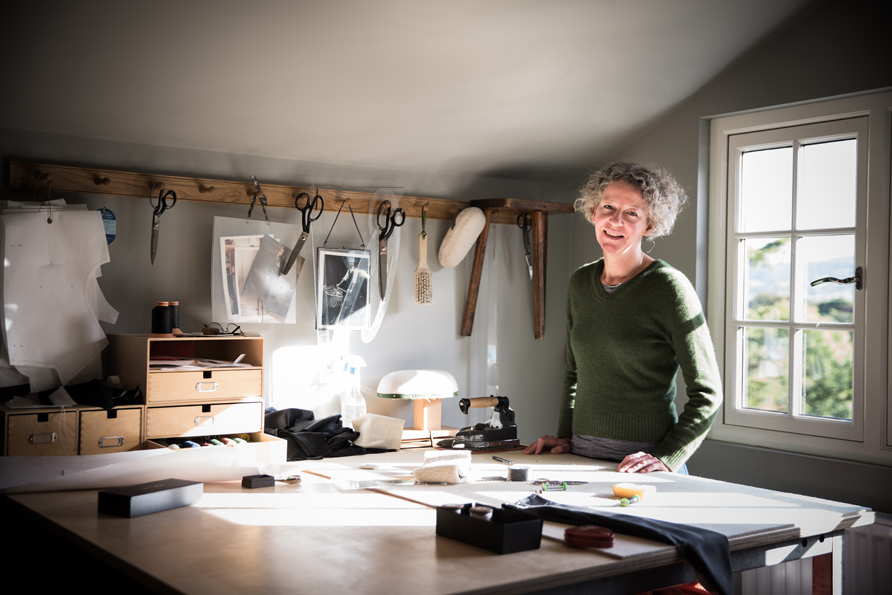 "According to the UN World Tourism Organisation the silk road begins in Xian, the ancient capital of China, and ends in the Cheshire town of Macclesfield, which is where we met Brita Hirsch one sunny day in October. And, fittingly, it is Macclesfield silk which often lines her tailored suits.
Using the right materials is key to everything Brita does. When we first tried to meet her, she was visiting the Western Isles, sourcing Harris Tweed directly from weaver Donald John Mackay MBE, who famously helped the revival of the heritage cloth by securing a deal with US sports wear manufacturer Nike some years ago.
We eventually caught up with her at her Macclesfield studio, which has views across the hills of the Peak District and is perfectly placed for a trip to the famous Yorkshire woollen mills. Brita is a firm believer in sourcing materials from manufacturers who are within reach and points out that "I try to get to know all my suppliers personally; it is important for me to establish a trusting relationship, knowing that they are as passionate about what they produce as I am about what I create."
But her most important driver is to make the best possible garment for her customer. Be it a business suit, an outfit for a special occasion or simply a piece that someone has always dreamt of wearing – she will make sure it is just perfect. Having developed her passion for quality and precision during a three year traditional apprenticeship in Germany, in her first job she tailored costumes for the musical Phantom of the Opera in Hamburg. "But it was during my time with master tailor Tom Reimer when my skills were really honed". His love of 1940s Italian and British style and persistence on using only the most meticulous hand sewing techniques meant she had opportunity to develop her craftsmanship to the highest level.
As well as being a skilled tailor, Brita has qualified and worked as a textile engineer for years, developing highly technical fabrics for airbag production. Her engineering background allows her to look at her product from an investigative angle, feeding back into every bespoke piece she produces.
Her client base is global, with customers travelling as far as from the Hollywood Hills for the bespoke, personal service Brita offers. A Hirsch tailored suit takes up to 80 hours to make. This level of skill and attention is seldom found away from the Savile Row tailors and importantly, it is even rarer to find a tailor who can produce the same quality for both, a male and female fit. It is this knowledge and understanding of fabrics combined with her many years of tailoring that make her suits truly personal and unique pieces of craftsmanship."