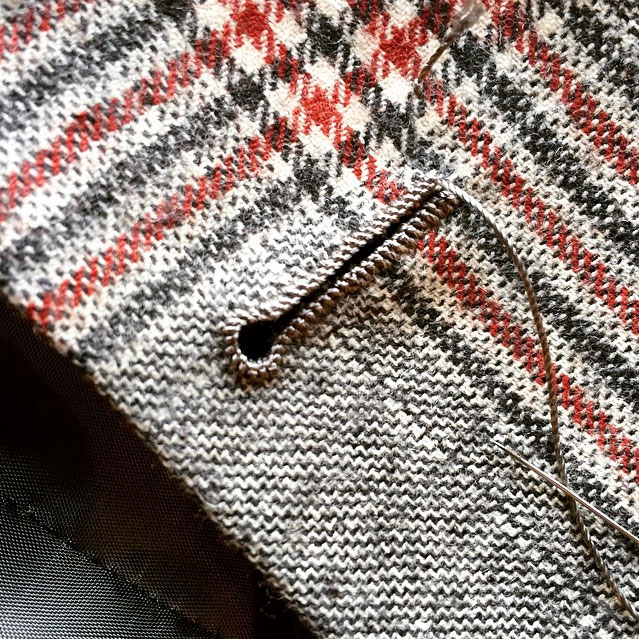 Doing things well takes time. The price of your bespoke suit or coat is largely determined by the time invested into creating the best garment you will ever wear – around 80 hours for a suit – but there are other factors, too.
I work strictly to the standards set by the Savile Row Association for bespoke clothing, which include an individual (not block) cutting pattern, a floating, hand-stitched canvas and hand-sewn details like button holes. Following a fitting – there are normally two – the garment will be taken apart again for the adjustments that will ensure your suit will fit you absolutely perfectly.
Your suit will be made largely by hand – a few structural seams are better machine sewn for consistency and durability – and entirely in house. I do not believe the highest quality can be achieved through outsourcing work and take pride in being able to deliver the enitire service from my own workshop.
The first cut is the deepest – are you a first time customer? If so, I will draft your very own cutting pattern, which will be adjusted over and over again until it is a perfect representation of your body shape. Only then will it be archived to be readily available for future orders, allowing me to lower the price for your next suit.
Are you going for wool or cashmere, man-made or silk lining? All materials I work with are of the highest quality, but there is a big price difference between a British grown wool and a fleece from a wild goat native to the Himalayas. It is part of my job to advise you on the perfect cloth to suit your budget and garment.
Do you prefer a plain or patterned cloth? The larger the 'repeat' of your woven check, the more generous I have to calculate your length of cloth to make sure your pattern matches in all places – one of the hallmarks of true bespoke tailoring.
I can see you at my Cheshire workshop, a fitting room on the Row, or wherever suits you.
Email me for an individual quotation